Event: Mobile Mammography Unit with St. Barnabas Health and Empire BCBS
Date: December 14th, 2022
Time: 9:30AM – 2PM
Location: CCN General Medicine, 1262 Boston Rd Suite 2, The Bronx, NY 10456
Overview:
The SOMOS Innovation team collaborated with St. Barnabas Hospital (SBH) and Empire BCBS to bring a mobile mammography unit in the Bronx. The mobile unit was stationed outside of several SOMOS Innovation practices, where a team of professionals from SBH performed mammography's to support Breast Cancer Screening. This event has gained a tremendous amount of attention by many of our SOMOS practices as a successful option to offering services in the community that are critical for the population we serve.
This will be a regular program provided to our network for 2023. We are grateful for our partners SBH, Empire BCBS and our medical practice for helping support this wonderful event.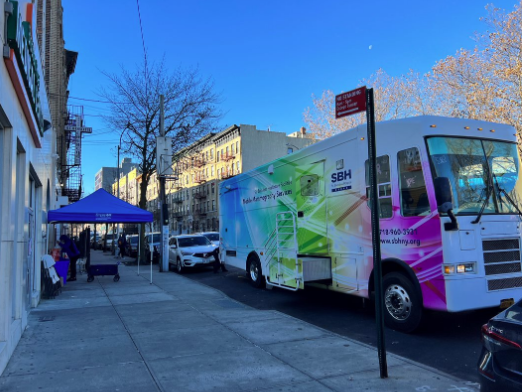 Event: Mobile Mammography Unit with St. Barnabas Health and Empire BCBS
Date: December 21st, 2022
Time: 9:30AM – 2PM
Location: Empire Office, 968 Southern Boulevard, Bronx, NY
Event: Mobile Mammography Unit with St. Barnabas Health and Empire BCBS
Date: December 7thth, 2022
Time: 9:30AM – 2PM
Location: 1831 Grand Concourse, The Bronx, NY 10453